This page offers PDFs  and other resources relevant to the project. These include published work by the project editors and other scholars. Anyone who wishes their work to be included on this website should send us the relevant material to: editors@adamgrandtour.online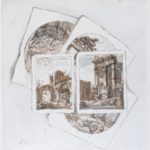 Adriano Aymonino and Colin Thom, 'Robert and James Adam: The Grand Tour Correspondence and Writings 1754-63', The Architectural Historian, Issue 11, September 2020, pp. 12-15.
SUMMARY: The first-hand experience of ancient Roman architecture was the catalyst of the Adams' remarkable new style. The letters and journals they wrote on their Grand Tours form an extraordinary resource – one which is now being turned into an open-access digital edition, write Adriano Aymonino and Colin Thom.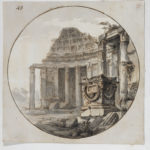 Adriano Aymonino and Colin Thom, 'Robert and James Adam's Grand Tour letters and writings 1754-63', a letter to the Burlington Magazine, no. 162, August 2020, p. 645.
Colin Thom, '"This Knotty Business:" The making of Robert Adam's Ruins of the Palace of the Emperor Diocletian (1764), revealed in the Adam brothers' Grand Tour correspondence', in Katrina O'Loughlin, Ana Šverko, and Elke Katharina Wittich (eds), Discovering Dalmatia: Dalmatia in Travelogues, Images, and Photographs (Institute of Art History, Zagreb), 2019, pp. 90–115
SUMMARY: Robert Adam's folio volume Ruins of the Palace of the Emperor Diocletian at Spalatro in Dalmatia (1764) was one of the most significant architectural publications of the 18th century. It vividly revealed the emotional impact of the Palace remains, linking them forever with the name of Adam. But the book took several years to complete, largely because the illustrations were undertaken by two separate teams of artists, in Venice and London, whose progress in the early 1760s was monitored through regular correspondence between Robert Adam in Britain and his brother and architectural partner James, who was at the time on his Grand Tour in Italy.
This paper considers some of the difficulties inherent in compiling such a book in this way, by correspondence, especially at a time of war. It also reassesses James Adam's role in managing the book's production and looks afresh at the contributions of some of the artists involved, most notably Charles-Louis Clérisseau, Francesco Bartolozzi and Edward Rooker – all through the medium of the letters circulating between James in Italy and Robert and his sisters in London.
Adriano Aymonino, '"The true style of antique decoration": Agostino Brunias and the birth of the Adam style at Kedleston Hall and Syon House', in Colin Thom (ed.), Robert Adam and his brothers: New light on Britain's leading architectural family (Historic England), 2019, pp. 104–22 [this book is currently available through Liverpool University Press – see https://www.liverpooluniversitypress.co.uk/books/id/52250/]
SUMMARY: This essay looks in detail at the two earliest incarnations of Robert Adam's new decorative style, what he himself called the 'true style of antique decoration': a dressing room for Lady Caroline Curzon at Kedleston Hall, and a small 'closet' (or cabinet) at Syon House, both designed in early 1760 and very similar in size and decorative character. Here Adam and his collaborator Agostino Brunias made use for the first time of some of the antiquarian sources that proved to be vital in the formulation and success of the Adam firm's decorative style. Among others, the drawings after antique Roman decorations by Francesco Bartoli preserved in Richard Topham's collection at Eton were determinant in shaping Adam's 'true style'.  This essay investigates the genesis of this Adam decorative style, its characteristics, and how diverse sources were used to serve different formal and iconographical purposes in the rooms at Kedleston Hall and Syon House. More generally, it considers the various levels of reference to the Antique that Adam could offer to his clients.